Along with @mywhiskeygirl and @briceferre, we tackled a section of the Sunshine Coast Trail over 4 days in April 2019. While the entire trail is 180km long and is Canada's Longest Hut-To-Hut Hiking Trail, we had limited time so we choose to hike a 55km section that crosses arguably the most scenic section of the trail (important when you are a group of 3 photographers!)
Logistics
Traveling on BC Ferries is still a little new to me, and to get to the Sunshine Coast Trail we would need to take two ferries from Vancouver. We decided to split this over 2 days so we wouldn't get to the trailhead too late in the day.
We drove to Horseshoe Bay to catch the ferry to Langdale. After departing, we drove to Smuggler Cove Marine Provincial Park for a short hike to stretch our legs. We finished the day driving to the Backeddy Resort where we stayed in a cabin for the night. Being just 10 minutes away from the Earl's Cove ferry terminal, we were able to get up and take the first ferry of the day (8:25am) to Saltery Bay. A short 30 minute drive took us to our pickup spot with the Sunshine Coast Shuttle.
We took a quick break about halfway for a quick lunch, then continued uphill to the hut. It took about 3:45 of active hiking, and just under 5 hours total including breaks and photos.
Important: There is no water source at this hut. Last source of water about 3km before hut. We were fortunate that there was snow at the top.
The 9km hike was uphill the whole way,
gaining 1,100m in elevation
As if the nature gods were waiting for us, the weather quickly improved as we reached the hut. We took some time taking photos around the hut and then eventually headed up another 200m higher to the summit for sunset - and what a gorgeous sunset it was!
Day 2 - Elk Lake
An important discussion was had the previous night, and that was which route to take. We could have headed east and down and around Lewis Lake, but we opted to head south instead which was a more direct route. On top of that, with the snow at the top and zero footprints in the Lewis Lake direction, we decided south would be the better option (it was also 5km shorter!). One of the biggest differences between these two routes, we learned, was that our chosen route passed through large sections of clear-cut forest. In a way, this was nice because we could see out at the changing views, but it was also a little disheartening passing through these sections and wondering what once was.
19km later, we arrived at Elk Lake Hut in just over 5 hours.
Situated right at the edge of the lake, this would be a lovely place to spend an afternoon in the summer. Unfortunately for us, it started pouring just as we were arriving.
Along with the rain that only got worse, this hut was not sealed off from the elements and the dampness and cold got to us. We also didn't have any way to create a fire to dry things or keep warm. As such, we decided to have dinner shortly after arrival and then retreat to bed. I guess we needed the rest, because we ended up sleeping for 13 hours!
Day 3 - Walt Hill
We knew we had about 14km to go today, and with a fairly steady uphill climb the entire way - but thankfully nothing too steep or demanding on our legs! We set off at 10am and took us almost 5:30 to reach the hut. This was longer than expected, and there is one very good reason for that: Snow. Lots of snow!
The day started off easily enough, and we even found a lake to take a break at and have some lunch. The sun even popped out for a little time while we enjoyed our lunches and the lake. Then we began to climb higher and higher and eventually hit snow again - no big deal. But then other people's tracks disappeared and we still had higher to go. The snow got deeper and deeper. We opted to NOT bring our snowshoes because we anticipated minimal snow and the extra weight carry over 4 days wouldn't be worth it. At least we brought our microspikes, but they did not serve much purpose on this day.
We began post-holing regularly and struggled to make much progress. We rotated through breaking trail but continued to step through the snow, including falling into waist-deep snow at times. This was for approximately the last 4 kilometers of the day, but we had a great attitude pushing through and knew we had daylight on our side so nothing to worry about - it was just a lot slower and tiring than anticipated!
We eventually reached a point where the snow stopped being a problem, and saw the hut off in the distance. The last 1km stretch was quite a relief and we were elated to step into the hut!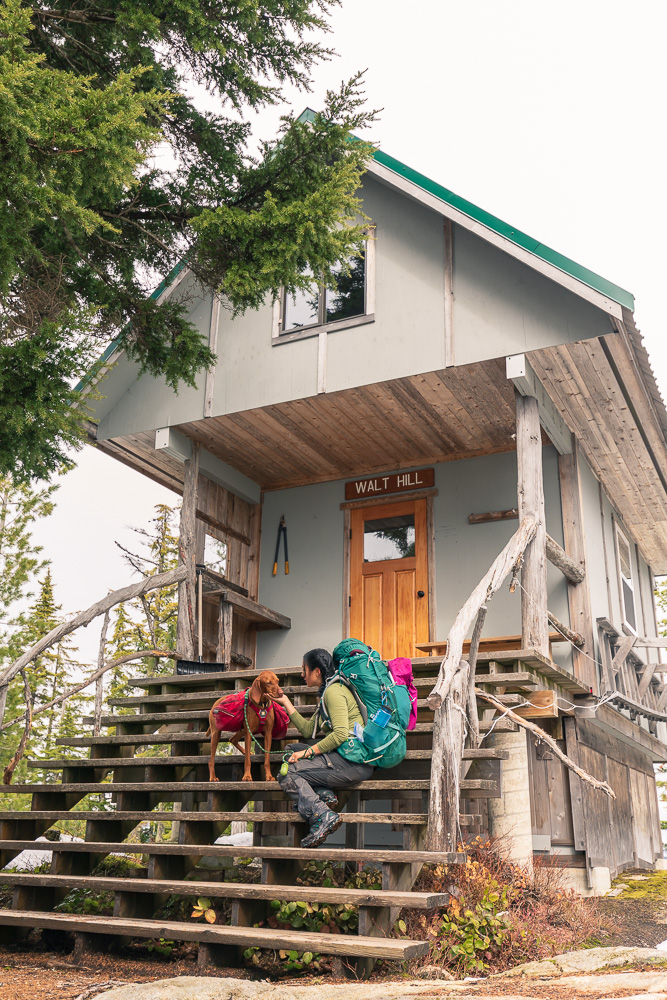 Our last stop on the hike, and one of the newest huts on the trail. This hut looked like a carbon copy of Tin Hat Hut
Day 4 - The Walk Out
This was the first day we set our alarms, and it was an early one at 6:30am. With reception at the hut, we were keeping an eye on the weather and rain was a certainty although it was getting worse throughout the day. As such, we wanted to get out sooner rather than later.
Despite the rain (which turned out to not be as bad as forecast), this was a wonderful way to end our backpacking trip - it was downhill virtually the entire way! We left just before 8:30am, hiked about 12km back to the car and without any stops it took us about 3 hours. We really weren't too sure how long it was going to take, and it ended up being faster than any of us had imagined.
On this day, I decided to pack my camera into my backpack so very few photos were captured, even from my phone.