Disclaimer: I bought the first iteration of this tripod. Feisol provided me with a complimentary upgrade to the revised 2nd edition (Mark II) model.
One of my biggest photography resolutions of 2016 was to get low. At 6ft tall, I am regularly shooting from above-average height. Whether photographing a nature scene or city shots, I wanted to introduce new perspectives to my shots and getting low angles was a big part of this.
I was on the hunt for a good option and subsequently made two purchases of alternative mini tripods that simply weren't up to the task of holding my camera gear. The went out the door almost as quickly as they came in.
Around this time, Feisol (who makes my full-size travel tripod) introduced their mini tripod - the TT-15. Being so new there was absolutely no information on it, but I knew what sort of quality I could expect so I went ahead and bought it.
An unexpected bonus was the inclusion of a tripod bag. Some tripods costing hundreds of dollars more still don't include a bag, so I thought this was a nice touch. I don't use it when out in the field, but find it useful to store when at home to keep any dust away. Two Allen keys are included to adjust the tension of the leg angle adjustments.
The top plate has a standard 1/4" screw and a 3/8" adapter is provided. I've chosen to use a ballhead on it for maximum flexibility, and I had a spare ballhead lying around that works well.
The tripod features 3 preset leg angles of 25, 50 and 75 degrees which provide approximately 145mm, 110mm, and 45mm of height respectively. Feisol also says you can spread the legs flat to the ground as you can see here:
Indeed it works. There is no locking at this angle, so it comes down completely to tension and balance. I don't use this as frequently, but have found that the leg tension is enough to comfortably hold this position when I needed the lower height. When necessary, you can also place any combination of legs tighter than the first preset angle if space doesn't permit. Note however that this can drastically reduce the stability of your setup.
Below are some examples of how the tripod and camera can be positions to get some unique low-angle shots: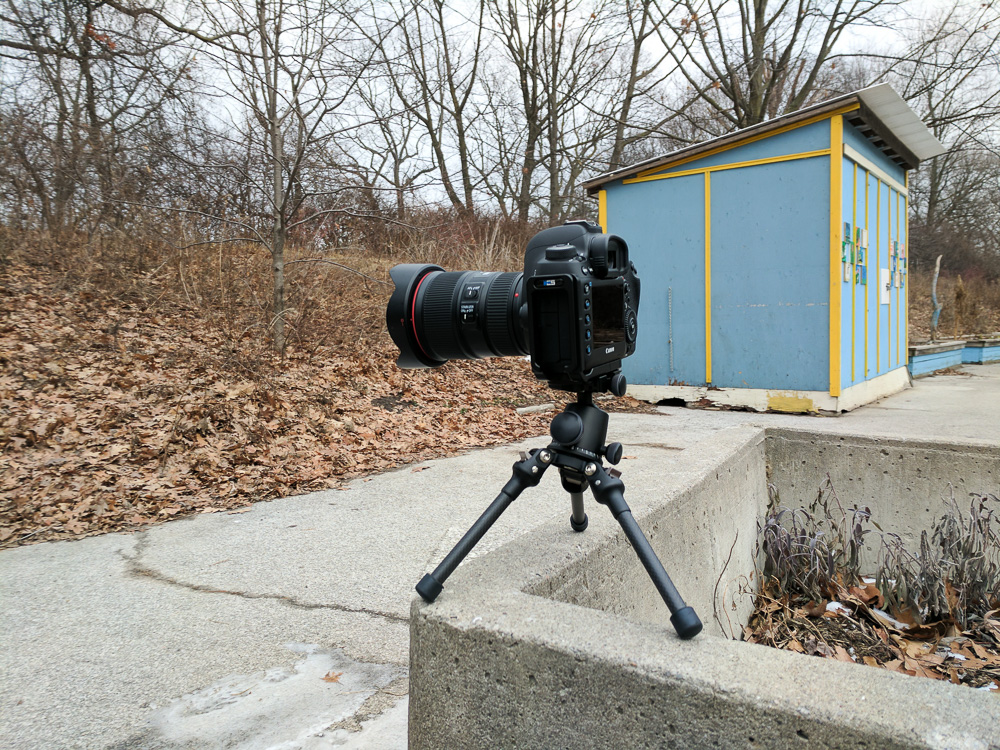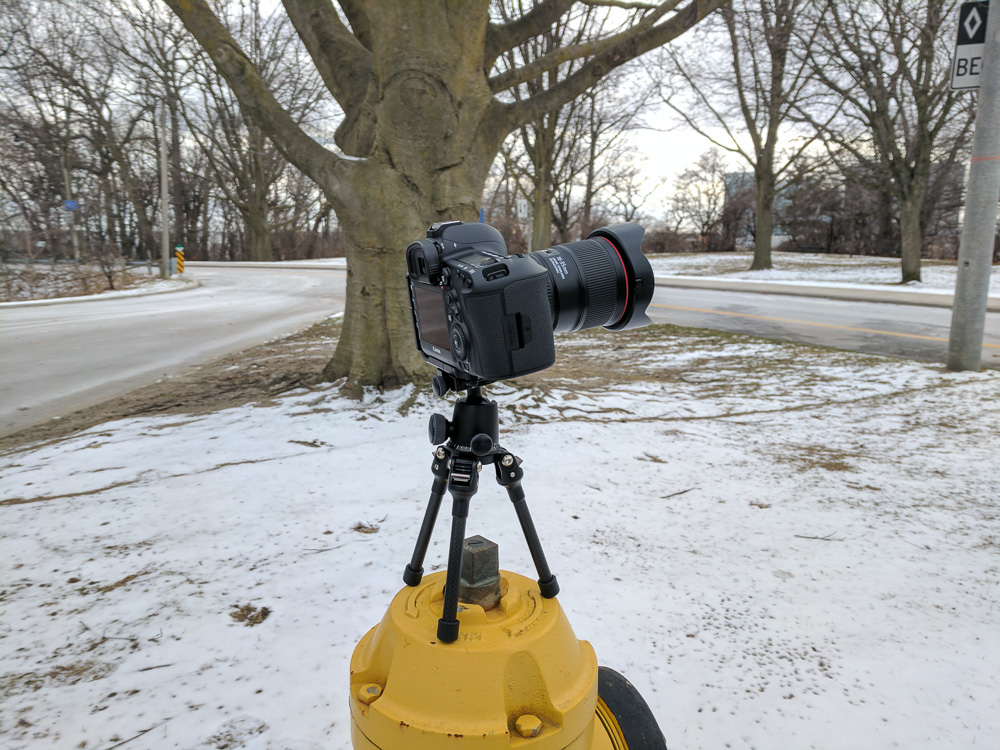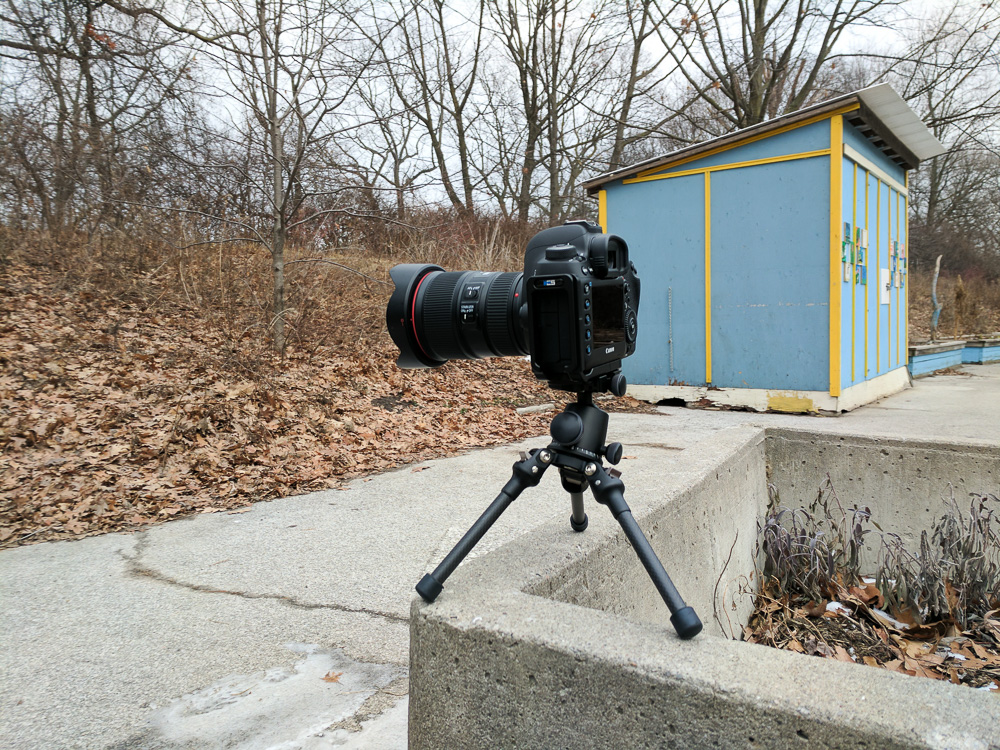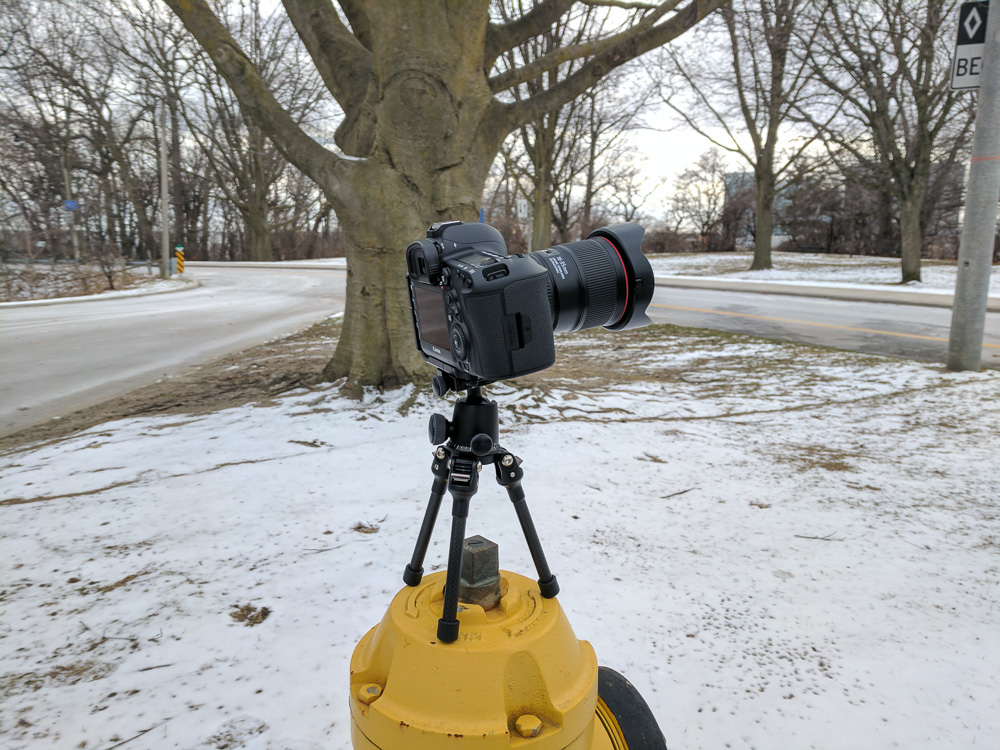 You can also flip the legs 180 degrees, a feature commonly found on many travel tripods. This allows it to fold up over the ballhead and center column, sometimes saving many inches of space for portability. However I found that functionality useless for this as it only saves a few mm at most, and is impossible if you have any ballhead mounted to the top.
One thing you'll want to note on a tripod this small is that it has a small footprint and so balance plays a large role. As such, you'll almost always want to ensure that the weight is on top of one of the legs to prevent it tipping over, as well as trying to center the weight as much as reasonably possible. If you place most of the weight forward between two of the legs, you're asking for an accident.
Conclusion & Recommendation
I love this tripod. Adding a ballhead to it does make it noticeably bigger and certainly heavier, but I absolutely require that additional level of adjustable for my work. You may not, in which case this is even that much smaller and lighter. The tripod is certainly more expensive than the budget tripods I mentioned in the introduction, but if you happen to have heavier gear you won't be able to get away with them. I would strongly recommend this for any photographer looking for a tabletop/extremely portable tripod with at least a DSLR and non-kit lens.
Pros
Small and light
Easily holds whatever you need
Inconspicuous - use virtually anywhere
Easy to use on uneven ground
Locking preset angles provide versatility and stability
Cons
Can be difficult to use on very small ground space or gaps between surfaces (i.e. narrow railings or rocks)
You probably need to buy a ballhead to put on top, if you don't already have one
Though I don't live in the USA, I love buying my gear from B&H. I also recommend Amazon, but this item is not available there.
FEISOL Mini Tripod TT-15 Mark 2 Specifications
Folded Length
16 cm / 6.20"
Minimum Height
5.3 cm / 2.09"
Maximum Height
14.4 cm / 5.67"
Load Capacity
8 kg / 18 lb
Weight
0.18 kg / 0.40 lb
# of leg sections
1
Preset leg angle positions
3
Materials
Carbon Fiber, aluminum
In the Box

Tripod
Tripod bag
Allen keys
1/4" to 3/8" adapter

Taken from Feisol.net; January 2017